rotary club greater ludhiana -offical governor visit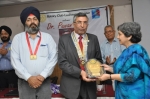 Rotary club ludhiana greater today held a special meeting at ludhiana club civil lines ludhiana . the meeting was special As Rotary district governor paid a special visit to the club . The Rotary district 3070 which is spread over parts of punjab & himachal & full of jammu & kashmir is having 116 clubs . & the governor is Rotarian Dr Pawan Gupta .
RC ldh greater-bone & joint camp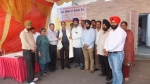 rotary club ludhiana greater organised a bone & joint check up camp at gurudwara dhan pothohar near kocchar market ludhiana . The patients were examined by Dr M Yamin orthopedic expert from Dayanand medical college & hospital ludhiana . The camp was inaugurated by Dr Sanjeev uppal head of plastic surgery deptt DMC & H ludhiana . Dr Thind president of club & mr Amanpreet singh thanked the guests & team of doctors
rotary club ludhiana greater -world sparrow day
Rotary club greater Ludhiana in association with Cape-India celebrated World sparrow day today on 20th march . Dr Rajan Bir singh thind President of rotary club Ludhiana greater said that they organised 2 events on the occasion . in first event , the DVD was released by Dr P. D. Juyal who is registrar of Guru angad dev veterinary And animal husbandry university .The Dvd is an effort by Dr Sandeep jain who is chief co-ordinator of Cape-India. The Dvd is having interview of Dr Sandeep Jain , on DD punjabi on Saving house sparrow was released .Dr jain elaborated that modern architecture is responsible for loss of habitat of house sparrows which was wooden planks in roofing of old houses and cervices and spaces in human housing .secondly agrochemicals and pesticides also destroy the worms which are eaten by babies of sparrows.. also present on the occasion were Sdr Amanpreet singh , Dr Sanjeev uppal , shri rakesh jain , DR kirti dua i/c wildlife medicine subhash sodhi. Dr juyal lauded the efforts of rotary club greater Ludhiana & Cape – india .
rotary club greater ldhiana-camp on Dental &Respiratory diseases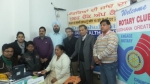 rotary club greater ludhiana held a check up camp on dental & respiratory diseases at noorwala road near jain medicine center . the camp was inaugurated by mr vipan vinayak , a social worker of the area . he lauded the efforts of roatary club ludhiana greater for organising such camps in their noorwala road area .
rotary club Manali -Kaun banega pastepati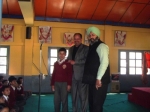 Rotary Club , Manali organised an Interactive Dental Awareness Seminar at Vidya Mandir School , Manali on 14th March'2014 . The key note speaker was Rtn Dr Rajan Bir Singh Thind President Rotary Club Ludhiana Greater. The Programme started with Welcome speech by President Rotary club Manali Rtn Vimpy Bakshi . The programme was attended by around 250 students of the school. Rtn Dr Thind was kind enough to accept our invitation for this dental awareness seminar and spared his valuable time for this noble cause . Dr Thind started the programme with his patented " Kaun Banega Pastepati " game . Dr Thind asked general questions about oral health care to the students and winners were given toothpaste and tooth brushes . Also present on the occasion were Rtn Ajay Abrol , Rtn Vineet Mehndiratta , Rtn Rajeev Ahuja , Rtn Pankaj Chauhan & Rtn Pankaj Dutt. The closing address was given by Rtn Rajeev Ahuja and School Principal .
bridal dental studio at kipps market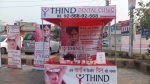 thind dental clinic today organised a session on Bridal dental makeup at Kipps market.sarabha nagar ludhiana . The session was on the occasion of Raahgiri day . . Dr Rajan bir singh thind along with his team organised a dental consultation for the would be brides & bridegrooms . around 40 teenagers were given tips to keep their teeth healthy . Dr thind told them about bridal dental makeup . Fix that smile - It increases your face value
Dental jewellery on valentine day
rotary club greater ludhiana -sponsorship 8th heart surgery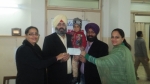 Today on 5th of feburary 2014 rotary club Ludhiana greater donated funds for the heart surgery of Baby punnet 5 years old female . Dr Rajan bir singh thind , the president of the club said that today ,s event was dedicated to birthday ceremony of their club,s founder president Dr sanjeev uppal from D m c & hospital Ludhiana . also present on the occasion were Dr gurinder kaur thind , Mr & mrs Amanpreet singh , Mr sushil arora , & mrs monika arora Dr thind the president of the club said that We are a Rotary club greater Ludhiana organization that over the past 4 months has helped 7 children receive treatment for their heart disease. These children have come from different parts of Punjab Mr Amanpreet singh said that The Gift of Life provides help to children with failing hearts who desperately need life-saving cardiovascular surgery, but do not have the resources to get it. The beginning for Gift of Life by rotary club of ludhiana greater started when ms davinder grewal from rotary club of Arbutus Vancouver came to india & donated funds for heart surgery of the kids with congenital heart disease .A general house club meeting decided to donate funds equally to 9 kids with CHD . Now the main focus was to identify and help such children We would rely upon heart surgeons throughout Ludhiana to identify children in need of heart surgery and then work to have them treated by one of our affiliated hospitals. This method of helping children remains an important focus of Gift of Life programs in that our volunteers are able to see the impact they can have on that one life and it motivates and inspires others to continue to support our programs..
rotary club greater Ldh -7th heart surgery sponsorship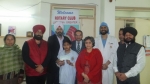 rotary club greater Ludhiana in association with rotary club of Arbutus Vancouver today sponsored 7th heart surgery sponsorship of patient Harsh . Harsh is son of mr veer bhan who already got his heart bypass surgery done . his elder sister has also got heart surgery done from Dr H . S. Bedi , a renowned surgeon of north india . Dr Bedi & his team are also contributing by not charging their operation fees . we r really thankful to them & C M C & Hospital .